BM-8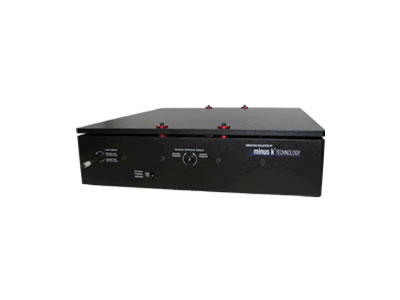 The BM-8 bench top platform offers 10-100times better performance than a full size air table in a package only 4.6 inchestall, and without air or electricity!
This vibration isolation platform isextremely easy to use and offers extreme performance. It offers a 1.5 Hz orlower horizontal natural frequency and our signature 0.5 Hz vertical naturalfrequency. There are only two adjustments.
This is the thinnest, most portable, andmost user-friendly isolator ever offered that is capable of delivering thislevel of performance. They can also be made cleanroom and vacuum compatible.
Weight: Approximately 40 lb. (16 kg)

Dimensions:
18" W x 20" D x 4.6" H
(457mm W x 508mm D x 117mm H)

Approximate payload weight range:

Model

Payload Range*

25BM-8

10 - 30 lb

(4.5 - 14 kg)

50BM-8

25 - 55 lb

(11 - 25 kg)

100BM-8

50 - 105 lb

(23 - 48 kg)

125BM-8

90 - 130 lb

(40 - 59 kg)

150BM-8

125 - 155 lb

(57 - 70 kg)

175BM-8*

150 - 180 lb

(68 - 81.5 kg)

200BM-8*

175 - 205 lb

(79.5 - 93 kg)

225BM-8*

200 - 230 lb

(90.5 - 104 kg)

250BM-8*

225 - 255 lb

(102 - 115.5 kg)

*Weight: Approximately 47 lb. (21 kg)/(same dimensions)


Any BM-8 can be made 16" W x 20" D
(407mm W x 508mm D)
for an additional $50

Performance

Horizontal frequencies are weight dependent.

Horizontal frequency of 1.5 Hz (or lower) is achieved at the upper limit of the payload range.

At the lower limits of the payload range the horizontal frequency is approximately 2.5 Hz.

Vertical frequency is tunable to 0.5 Hz throughout the payload range.

Simple Set-Up and Adjustment