WaveNano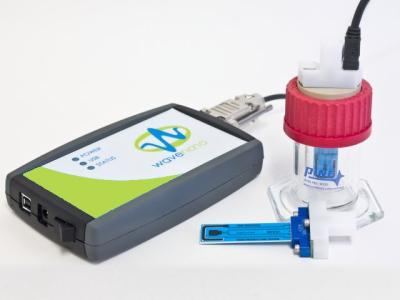 The WaveNanoPotentiostat/Galvanostat System breaks with the past replacing traditionally largeand stationarybenchtop instruments with lightweight, portable, and powerfulalternatives.Weighing less than 200 grams, the WaveNano series potentiostatsystems featuresa convenient USB interface, a fully-functional potentiostatandgalvanostat. The WaveNano Potentiostatbundle is a solid choice foryour low current electrochemical measurements. With the lower 100 pA currentrange resolution, customers choose the WaveNano for biosensor testinganddevelopment and other applications where high quality potentiostatsarerequired. Key features of the WaveNanoare as follows:
Applied/Measured Current: ±100 pA to ±1 mA
Applied/Measured Potential: ±4 V
Operation Modes: Potentiostat, Galvanostat, OCP, ZRA
Techniques: All common DC sweep and step experiments plusspecialty corrosion,rotating, and spectroelectrochemistry techniques
If this bundle doesn't include exactly whatyou need, pleasecontact us to inquire about minor substitutions. We arereasonable people.
See "Description" tab below foradditional precautionsand information.
The WaveNano Potentiostat Bundle includespotentiostat,software, and cables.
Description
The WaveNano portable USB potentiostat isthe low currentversion of our popular WaveNow potentiostat product line. Thelower currentranges make the WaveNano a better choice for researchers involvedinmicroelectrode or electrochemical sensor research. This fullyfunctionalpotentiostat/galvanostat weighs less than 200 grams, features aconvenient USBinterface, and is operated using our powerful AfterMathinstrument control anddata analysis software.
Portable. Only 30 mm thick and less than175 mm long, thispotentiostat is the ultimate portable instrument–small enoughto fit into yourlaptop's tote bag, your carry-on luggage, or your coatpocket. You cantake your potentiostatto your work area rather than having to move your workarea to yourpotentiostat. An optional battery pack lets you take yourpotentiostat into thefield when needed.
Affordable. At a fraction of the cost ofother potentiostatsystems, this potentiostat gives you exactly what you needwithout breaking yourbudget. The system is affordable enough that you caneasily purchase two of themat the same time. And if you are outfitting yourentire lab with potentiostats,please be sure to contact us for a specialquantity discount quote.
Capable. Designed with the everyday user inmind, thespecifications for the potentiostat are broad enough to permit you toperform awide range of routine electrochemical techniques but also prudentlychosen toallow for a simple and affordable design. Popular and commontechniques such ascyclic voltammetry, bulk electrolysis, differential pulsevoltammetry,square-wave and pulse voltammetry, chronoamperometry, andchronopotentiometryare easily configured and executed using our AfterMathsoftware package.
The WaveNow Potentiostat Academic Bundle isperfect for thestudy and development of biosensors.
This bundle includes screen-printedelectrodes and all theaccessories to connect to them. Screen-Printed Electrodes are aperfectsubstrate for studying biosensors and for developing them as well. The WaveNow Potentiostat can be used as aconstant current galvanostat, constantpotential potentiostat, and all theclassic electroanalytical techniques such ascyclic voltammetry.
Specification
Applied and Measured Voltage Range ±4 V
Applied and Measured Current Range 100 pA to 1 mA
Interface USB
Functions Potentiostat, Galvanostat, OCP, ZRA